Post by Barry Donadio on Jan 21, 2019 10:23:46 GMT -4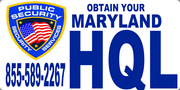 READ ENTIRE INSTRUCTIONS
Handgun Qualification Class (HQL) $125
Class instructed by Barry Donadio (Former U.S. Secret Service)
HELD IN QUEEN ANNE'S COUNTY
QUEENSTOWN SPORTS CENTER
620 4H Park Road Queenstown, Maryland
UPSTAIRS
Feb 23rd, 2019, Saturday 9am to 3pm
For: MEN, WOMEN, YOUTHS
READ ENTIRE MESSAGE BELOW:
Public Security War Fighting will be providing HQL training for $125 per person. This training is required for those seeking their HQL.
This is the required class To have in order to buy a pistol in the State of Maryland. The class is a required 4 hours long, followed up with shooting the required one shot from a pistol at the range.
YOU MUST RSVP WITH BARRY DONADIO by either text, cell phone, email or Facebook
Payment in the form of a money order or check is due PRIOR to class by sending to:
Barry Donadio
Public Security LLC
1831 Anchorage Drive
Chester, MD 21619.
Payment must be received PRIOR to the class in order to reserve a seat in the training. If you do not attend the class, there are no refunds once payment is made.
We do accept Paypal payments. Just use Barrys email to send payment: barrydonadio@yahoo.com
We can also accept credit card payments, but there is a 4% transaction fee applied.
Each student is required to buy 50 rounds of 9mm ammunition from an American manufacturer PRIOR to the class. Please do not bring ammunition inside the shooting range. Leave ammunition in your vehicle until we arrive at the shooting range. In addition to shooting for your HQL, we will also use the remaining bullets to train you to be a better tactical shooter with some pistol drills.
You are required to have your own transportation to the shooting range. We are not authorized to transport students to and from the range.
This facebook event page is not necessarily accurate estimate of seating availability.
The class is very informal and relaxed with no pressure or stress. Round table atmosphere. Bring coffee and or food. Comfortable clothing and good spirits. Sharing personal experiences during class encouraged. Past classes have be generally overall a good time and fun. Ask other past students.
Barry Donadio, former U.S. Secret Service, will instruct the class and gear it towards self defense/combat shooting. Please Facebook friend him so you can send him your cell number to hold your spot in the class. Barry's direct cellular 202-631-1153.
Class begins at:
9am to 3pm at Queenstown Sports Center
Immediately after class we will go to:
"On Target Shooting Range"
2618 Annapolis Rd, Severn, MD.
PLEASE SAVE IN YOUR GPS PRIOR TO CLASS TO SAVE TIME
We hope to be done by 3pm but may be longer, depending on wait for the shooting range. We will need to be contacted ASAP so we know who is coming to the class. Classes fill very fast. Participants must arrive on time to receive credit for the training.
Once training is complete, fill out your HQL application online at the Maryland State Police website. It is important to let us know when you completed your application, so we can give you credit for taking the class on line. Students needed a letter from us proving class completion may request one from us.
Fingerprinting is the responsibility of each student to obtain their live scan finger printing at a separate location. We recommend MARI (Mid Atlantic Regional Investigations) on West Street in Annapolis.
This is the Instructor number for Barry Donadio that needs to be submitted to the State Police with your application.
QHIC-2015-0253
Below is a link to the Maryland State Police website for HQL
mdsp.maryland.gov/Organization/Pages/CriminalInvestigationBureau/LicensingDivision/Firearms/HandgunQualificationLicense.aspx
This training will be given on a periodic basis. Check with us for other classes.
PLEASE DO NOT BRING FIREARMS OR BULLETS INSIDE THE QUEENSTOWN SPORTS CENTER / THE FACILITY IS SHARED WITH MANY OTHER GROUPS.
DO NOT DRINK ALCOHOL 8 HOURS PRIOR TO THIS CLASS. ANY STUDENT WITH THE SMELL OF ALCOHOL ON THEIR PERSON WILL BE TOLD TO LEAVE.
IF YOU ARE TAKING ANY MEDICATIONS THAT PREVENTS YOU FROM OPERATING MACHINERY, DO NOT SIGN UP FOR THE CLASS UNTIL YOU ARE NO LONGER TAKING THE PERSCRIPTION.
IF YOU ARE A CONVICTED FELON, SEX OFFENDER OR SOMEONE WHO IS BARRED FROM POSSESSING A FIREARM LEGALLY, YOU ARE NOT LEGALLY PERMITTED TO ATTEND THIS CLASS. DO NOT SIGN UP FOR IT.
IF YOU ARE USER OF MARIJUANA OR HAVE A MEDICAL MARIJUANA CARD, CHECK WITH THE MARYLAND STATE POLICE TO SEE IF THEY WILL ISSUE YOU A HQL PRIOR TO TAKING THIS CLASS.
IF YOU HAVE BEEN DIAGNOSED WITH A MENTAL DISORDER SUCH AS PTSD OR ANY OTHER METAL DISORDER, YOU ARE NOT ABLE TO ATTEND THIS CLASS. PLEASE DO NOT SIGN UP FOR IT.
MILITARY VETERANS: You are not to take the class to your HQL. Just submit your DD-214 with an honorable discharge to the Maryland State Police with your application.
PLEASE SHARE ON FACEBOOK WITH YOUR FRIENDS